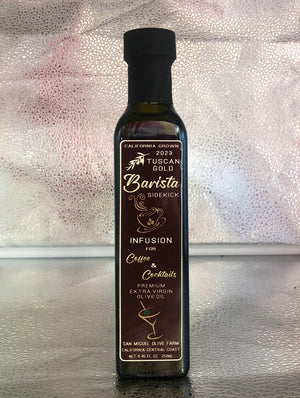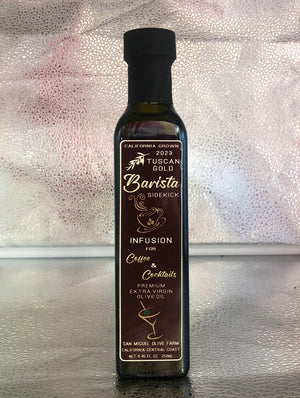 On Sale
Barista Sidekick 2023
Journey Through The World Of Coffee For An Amazing Experience
You are about to enter a whole new healthful world of taste.
Our Barista Sidekick INFUSION is an early harvest high polyphenol PREMIUM Tuscan EVOO. It's a great infusion for hot or cold coffee and cocktails. . 
Add one 1/2 to 3/4 teaspoon to your coffee. Stir, sip slowly, enjoy the floral aroma with the taste of freshly brewed coffee. The buttery oil lessens the coffees' acidity.A soft shadow of a pepper is the finish. Delicious! New and exciting.
Barista Sidekick is a jazzy mixer for cocktails. Add 1/2 to 3/4 teaspoon of oil to your cocktail. Shake or top off.