Testimonials
Corvette Club
Glad you like them! We had the most fun! 
Absolutely loved the stories ! 
I can't wait to come back. 
By the way I do have the under carriage lit up also !! 
I also made a piece of whole grain toast this morning with my new Olive Oul. Thank you again
Sincerely 
Sher H 
Allegretto Tasting
We met you in the hotel lobby. Best olive oil , thank you for sharing you expertise with my husband and I.
Blessings,
Cindy Lawrence
 Greetings to you,
Received olive oil today and tried the nectar one and put on my salad.   Also used the vinegar which is delicious.  Excited to experiment with olive oil on popcorn, and other things.
Thanks again for thorough explanations!  Will keep you posted.
Take care
Tod, December 20, 2020
If you're looking for high quality olive oils look no further, Richard and his lovely wife grow and produce some of the best olive oils in California!!!! Their olive oils have won numerous awards and rightfully so! The quality and taste are some of the best I've tasted here in USA. Richard was so kind in letting me have clippings of his olive tree branches! The leaves will be used to make herbal olive leaf teas!
Thank You Richard for your kindness and hard work!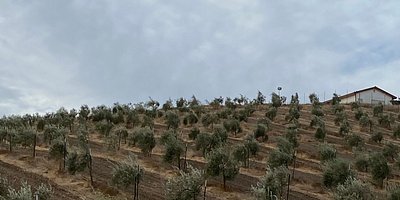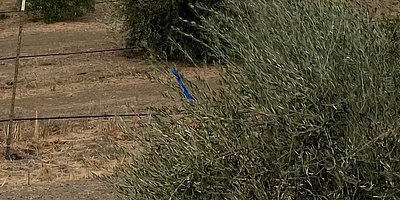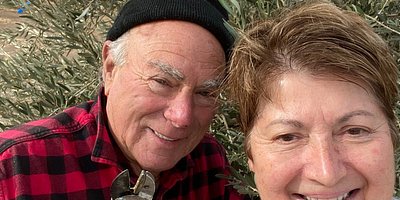 ~Joan, November 19, 2020
On a road trip with a couple of days in Paso Robles, CA, an area known for abundant vineyards and wine tasting, my friend and I decided to mix it up by visiting San Miguel Olive Farm. This tour was the highlight of my time in Paso Robles.

Lucky for us, we were able to book a tour on short notice (about a week prior) on the day that worked for our schedule. I could immediately tell how warm Richard, the owner, was on the phone. A true gentleman.

Upon arriving at the front gate, we were greeted by Richard, who then escorted us to a big tree on the hill overlooking the picturesque farm. Sitting shaded under the tree with his sweet dog nearby, we listened intently, while he shared how he started the farm and his lessons learned over the years. We then walked to the olive trees and learned how the trees are maintained and how olives are harvested for optimal quality. Double lucky for us, we were the only ones on this weekday tour, so we were able to get a ride on his tractor around the farm.

After the farm tour, we retreated to the outdoor patio for olive oil tastings and met his sweet wife. We learned how to smell and taste his award-winning olive oils by swirling the oil, sniffing with each nostril, and then paying attention to how the oil tastes on the tongue and throat. He also shared over 15+ different flavored balsamic vinegars (some still in tiny sample bottles) for us to choose which we wanted to taste and learned how they complemented the olive oils. And Richard patiently fielded all our questions during the entire tour.

There's no pressure to buy, but I don't know why anyone wouldn't purchase some excellent quality finishing olive oil and balsamic vinegar from him. Plus, one would be supporting a small local farm business. It's a WIN-WIN.

Note: This visit was done during the pandemic. I felt safe as he asked in the beginning of the tour about mask use, and we were outside the entire time. I'm positive Richard would accommodate if you didn't feel comfortable with anything. Also, they are in the very early stages of building a separate tasting room, but the tastings done in the outdoor patio were perfect for us during the pandemic.
~SJN November 9, 2020
Richard Meisler (owner) greeted out group of 6 at the farm entrance and escorted us up to the farm. A very casual, relaxed atmosphere sitting under a shade tree as Richard started explaining about the tour and basic information on olive farming. This was truly a one-on-one type experience and we all treated as if we had know Richard for years.
After the olive farm tour, Richard invited to his home located on the farm grounds. His wife Myrna greeted us upon arrival. We then sat on the outdoor covered patio as Richard personally served us his various olive oils, explaining the differences, then tasting with provided sour dough bread pieces. No pressure or sales pitches to purchase anything.
In this hustle and bustle world, the whole experience at San Miguel Olive Farm was casual and slow paced. The hospitality is something many places should take note of. The olive oils we tasted were the best, and we gladly bought a variety to enjoy at home.
Thank you Richard and Myrna for your hospitality and for the best olive oil on the planet!

JackDiBartolo, October 2020
Word 
I remember my first taste of your EVOO at Paso Robles in 2012.  I was there with a brand we were trying to develop.  We met and you had one last bottle and I bought it.  LOL...epic.  To this day when i host tastings I always tell folks you have the best EVOO in the country.  Much love! 
 ~Phillip, October 2020
.
Best oil i ever had. Love it!
Edith R.  Square testimonial, September 2020 
Wonderful Visit!
While dropping my daughter off at SLO, we decided to explore more of the extended area. We bought some olive oil from Richard, and he then welcomed us to tour his farm. Not only did we learn how San Miguel Olive Farm started and how the olives are grown and maintained, but we also were able to get to know a little about Richard...what a wonderful person! He made us feel at home in spite of 114 degree weather. He even sent us home with some clippings to try and grow our own tree in our back yard.
~Juan, Tripadvisor,

September 2020
 Incredible Olive Farm Tour
"We were visiting SLO county and decided to look for something fun to do in the area besides wine taste.
Although San Miguel was almost an hour away, we found an Olive Farm Tour on yelp and TripAdvisor. An award winning farm that produced organic olive oil.
We called last minute and they happened to have a spot open for 2:30pm. 🎉
Otherwise we could have visited the Allegretto Vineyard Resort in Paso Robles where Richard, the owner, hosts his olive oil tastings a few times per week.
We drove out to meet with Richard who met us at his gate. He had us follow him up to his property, sat us down and told us the story of how he started his olive farm and everything he learned along the way.
He then took us on his small off-road tractor to cruise through the field of olive trees and explained, in detail, how they grow, preserve and harvest the olives.
Then he took us up to his home where we met his wife Myrna and she had set up a tasting for us to try the olive oil + flavored vinegars with bread. It was delightful.
We shared personal stories, talked food, were given recipes and ended up buying a couple of bottles of oil and vinegar.
It was so much fun and honestly really impressive!!!
We highly recommend this because it was super special and because it's so intimate, they can only host so many people.
Thanks Richard and Myrna!!"
~Tarynlandberg Tripadvisor August 2020
"Complement the Wine Tours with an Olive Oil Tour"
"Stopped by to have a tour from Richard and Myrna. Had a wonderful three-hour visit learning all about the olives, the process to make oil, Richard's background (great story!), and then a full-on tasting of the different types of olive oil (and vinegar that they import from Italy). And yes we definitely bought some to take home - no hard ball selling tactics at all but I would have felt uncomfortable if we hadn't bought something. Richard literally squeezed us on his cart and drove us into the fields, pointing out the growing dynamics, which trees are 'fruitful' and which aren't, and the challenges inherent in what he does. This was such a great experience all around and highly recommend it."
 -JerVerb Tripadvisor August 2020
Love this olive oil (organic) and were in the area and toured the farm. Great experience to learn how olive oil makes it to our shelf in an organic manner as well spending time on the porch of of the owner's house tasting and learning about the history of the region. Highly recommend, esp. if you enjoy farm-to-table type of experiences.
Amazing Tour - Kids love it!!! - Review of San Miguel Olive Farm 
It all started with Richard waiting at the gates to receive us and Myrna leading us with the direction for the last 1 mile. I would say Richard led an amazing tour of the olive farm. Under the shadow of a large tree, he described the history of his olive farm, the intense work required to maintain olive farms, and all of the challenges he had to overcome. Then had to do a ride around the farm .. some of it thrilling and finally finished with the taste of all his hard worked Olive. Our kids also had some good time with the horse. Looking forward to be back during harvest.
~ Christudass D. Tripadvisor July 6, 2020 
Richard and Myrna, We just cracked the bottle of Tuscan Gold this last weekend. We added a spritz of your Blackberry Vinaigrette and sopped it up with crusty bread. You've produced Heaven in a bottle. The flavor is unlike anything you can buy in a store. It's obviously a labor of love. Thank you, we look forward to buying again.
~Chuck and Denise Mechanicsville, MD.  July 2019
We just got home today from our cabin in northern MN in time to watch the game and were pleasantly surprised to find a package in our mailbox. Thank you very much for sending us the oils from the fall harvest. It will be enjoyed for sure especially knowing we did a little part to make it happen. It was very generous of you to send two bottles, I'm sure we didn't pick enough olives to fill 2 bottles! but much appreciated. Thanks again and hope you have a good season!
~Dan and Jan, Minnesota, February 2019

"You probably think we're drinking it! …. But actually we're keeping some on hand at all times for special gifts like thank you gifts or host gifts. As we give a couple away, we're replacing them to always have some ready. It's so perfect! I mean, not everyone drinks wine, and flowers die quickly. Your olive oil is a gift I feel really good about giving, and people are so happy to receive it!"
~ Tracie, November 2018 

"Hi, Richard. Back in MN now with snow on the ground this morning if you can believe it. We both thoroughly enjoyed the little bit of help on your harvest. Never have we done anything like that before so we really appreciate you giving us the opportunity! Also, thanks for the pictures, especially the one of Jan. Can't believe how full the crate is in your picture, looks like a healthy crop. And yes, we will put some comments out on line, I understand marketing and know it helps! Thanks again."
~ Dan and Jan, Minnesota, November 2018

"Thanks again for a wonderful visit to your olive farm and you house. It was certainly one of the highlights of our visit to America so far. As promised, I send you some photos of that day. I wish you guys all the best and hopefully we'll meet again soon."
~ Nicolas and Lola, July 2018

"Thank you very much for driving all the way to Pomona to serve your AMAZING EXTRA VIRGIN OLIVE OILS AT CHEERS! The oils are delicious and immediately put a smile on everyone's face! Saturday was an amazing event – I heard so many wonderful comments on the oils, they were all very well loved! Each year our guests eagerly await the first opportunity to taste the Award Winning extra virgin olive oils of the competition. Thanks to you - CHEERS was a big success! On behalf of The Learning Centers at Fairplex thank you very much. We greatly appreciate your generosity in support of our very important and worthwhile programs. Proceeds from the event will benefit The Learning Centers at Fairplex, which are dedicated to providing relevant educational programming that creates "a lifetime of learning cleverly disguised as fun." Again, my sincerest thanks and may your great success continue throughout the year!"
~ Mary Ellen, Los Angeles International Extra Virgin Olive Oil Competition, CA, July 2018

"Thank you so much for taking the time to show my Mom and I around your beautiful farm. It is such a special place and your passion for olives shines through! We also enjoyed the tasting at the hotel! I can see why you have all the awards you do -- everything was delicious! All the oils and vinegards were a hit with my family -- we did a little tastng and they really enjoyed all of them! ~ Juliette, July 2018

"Dear Richard, Very nice to meet up with you in NY. Again, congratulations. It was so good to share your happiness with you. Very best wishes.
~ Robert, Australia, April 2018

"Oh my, this is different. I never tasted such a fresh EVOO." ~Jane, Bakersfield, CA, April 2018 "I came me to the Oaks Hotel special to purchase your olive oil and restock my pantry with your Award winning olive oil. Iam sending this case to my family in Ohio. These 6 bottles are going home with me. It makes the difference. I didn't mind waiting for you for the olive ol tasting. It is worth it." ~ Annie, April 2018

"We enjoyed our visit so much. You have such a lovely home and property. Thank you for the tour and for your kind hospitality. We are enjoying our olive oil and vinegars. I hope we can visit again after summer. We should need to replenish our supply by then. Our best wishes for a win at the NY competition. We will be watching for the announcement.
~ Scott and Stella, April 2018

"Hey Richard, Bryan from Broken Earth Winery here. I got home a bit later than expected but promised I'd send this photo of some of my family enjoying your olive oil and hard work. Not in the picture is the rest of my family that had the same sentiment. I hope you know that my family truly treasures what you do. Thank you for your kindness."
~ Bryan, California, March 2018

"We have enjoyed your olive oil and vinegar so much that I am ordering some for a good friend."
~ Jeff, December 2017

"Loved the oil and the velvet packaging."
~ Kerry, 2017

"Have enjoyed your olive oils we picked up from the Oaks hotel the past few nights, using it with fresh rosemary from the garden to roast some chicken. Absolutely delicious and the olive oil makes the difference. Cheers from LA."
~ Tim, May 2017

"It really made my day. Old leftovers taste better."
~ Pete, CA, February 2017

"Your olive oil rocks." 
~ Wally Minko, April 2016
"Wow, we have never tasted an oil like this before, it is great. Fresh, peppery finish."
~ Ryan, Michael, Tiffany, Jenner, April 2016

"I need more, Richard! Between cooking and using the oil on my skin. . . Well, it may very well be my own Fountain of Youth."
~ Kathryn, Bakersfield, CA, April 2016

"Your [Tuscan Nectar of the Gods] oil is excellent!" ~ Dave & Melinda, Mammoth, CA, March 2016 "Yummmmm.........spicy!!!.....I like it [Tuscan Nectar of the Gods]!!!"
~ JC, San Diego, CA, March 2016

"We tasted and then bought your olive oil last night. It was just great. Today we made the rounds to the olive oil store. We tasted many oils and purchased olive oil soap instead. Richard, you have the finest oil. We will buy from you online." ~ Richard and Janet, Orange County, CA, February 2016

"Wow! I love the peppery finish of the delicate [Tuscan Gold]. Now the medium [Nectar of the Gods], I like the texture and smoothness. The robust [Tuscan Gold Pristine] is buttery, bitter, smooth, bingo! Peppery. That's the one: sold!"
~ Katie, February 2016 
The oil is amazing. We are so proud of you both and what you have accomplished in such a short time. We will be telling all our friends about you and your company - it's simply wonderful. Congratulations - and thank you again!"
~ Wally & Family, Southern California, Februrary 2016

"The first three bottles you sent are incredible. Perfect for salads—the flavor of the oil is so delightful. Again, thank you so much!"
~ Tanner & Collee, NJ, February 2016

"We have tried the oil and it's great! Quite bitter at first, but lots of fire in the throat. Drizzles here and there on all our favorite foods. Will be great with a squeeze of lemon on a salad. We would love 3 more bottles in February."
~ Tanner & Colleen, Ramsey, NJ, November/December 2015

"You have some great tasting olive oil!"
~ Anita, Fresno area, CA, October 2015

"Last night I used [San Miguel Olive Farm olive oil] for two dishes. I sauteed several kinds of fresh tomatoes with garlic and fresh basil to make pizza sauce. Very tasty! I also used corn, fresh tomatoes, and basil ,and made a dressing with the olive oil and mandarin orange vinegar. Marinated it for a little while to add some zip. It was really good, too!"
~ Karen, Ontario, CA, July 2015

"We met Richard last Saturday at the Vines RV Resort. We learned a lot of good information from him. His olive oil is one of the best I have ever tasted. We are savoring our bottle of extra virgin olive oil!"
~ Evely, June 2015

"Received the oil today. The bottle is so pretty I don't want to open it. Might have to buy another bottle of your oil just to use."
~ A Friend, Las Vegas, Nevada, June 2015

"Oh this is great, I would like to buy 1 bottle of TUSCANEIKI and one bottle of your 25 star Balsamic vinegar. I will share this with my son. He is a Chef. I know he will enjoy this oil. Sooo different!"
~ Catherine, Valencia, California, May 2015

"The oil is just wonderful. I will share it with my staff after lunch.The packaging is lovely, a beautiful gift item. Who does your waxing?" (Reply: I do!)
~ Karen, Riverside, California, May 2015

"The oil was delicious, I kept wanting to use more!" ~ Dana, Paso Robles, California, May 2015 (Asked: How was that steak drizzled right off the grill?): "Awesome, got my money's worth....Best I have ever tasted. Tuscaneiki!!!!!" ~ John, California, May 2015

"Well worth the wait!"
~ Raul, harvest helper who just picked up his complimentary bottle of Tuscaneiki, May, 2015

"I listened to what you had to say, and you stimulated my brain. Never thought of using olive oil in so many ways."
~ A customer, May 2015

"I asked a customer how she enjoyed our oil. She said, "I haven't used it yet. The bottling is so pretty, I left it on the counter just to look at it. I said, "Then you need to buy another bottle." We all laughed.The third person in the office said she would like to purchase one bottle next week. I asked her what her favorite color was. I made a purple wax strudel on the top of the bottle for her." ~ Customer Story, April 2015 "The oil is wonderful, used it for my eggs this morning."
~ A customer, April 2015

"Everyone has enjoyed the olive oil immensely... and I am proud to tell your story!" ~ Cheri, April 2015

"I bought some good bread and olives yesterday, and we dipped the bread in your oil & snacked on cured olives & roasted garlic. FANTASTIC! Thank you for sharing the fruits of your labor!"
~ Connie and Alan, April 2015

"My friend, John, sent me a bottle of your 2015 Tuscaneiki and it is fabulous! I made the salad dressing from your recipe with it last night and my husband and I were so impressed!"
~ Bets, CA, and John H., Santa Fe, NM, March 2015

"Smooth texture , with a peppery finish which was lasting, and not caustic. Excellent oil. We added some vinegar to make a salad dressing.This was a great gift and was packaged well."
~ Bryan, Paso Robles, CA, February 2015

"Olive oil was great. Used it with crusty bread. Perfect as a dipping oil and on salad."
~ Keit, Boca Raton, FL, February 2015

"Herbacious and smooth. The mild bitterness and peppery finish envelop the entire palate. Delicious!"
~ Awgust and Alivia, Paso Robles, CA, January 2015

"Oh, wow! I REALLY like that new olive oil! Just tried it. Yum! Whether or not judges wind up liking it, I think it's delicious! For comparison's sake, I tasted some Star extra virgin olive oil that I had from the store. ? I could barely swallow it, it was so nasty."
~ PC, Victorville, CA, January 2015

"Velvety texture. The aroma is like being in the olive trees. Peppery finish is slow, bursting, and balanced. Bread, when dipped in this oil, takes on the same slow, peppery, balanced taste. Delicious!"
~ Brenda, Paso Robles, CA, January 2015

"After tasting olive oil in Italy, and now in Paso Robles, your EVOO is the best we have ever tasted!"
~ Dave and Melinda, January 2015

"Oh my goodness, I love your lotion, it is a brilliant product. It is light, absorbs quickly not leaving a heavy film on my skin and is serving to soften my hands more and more on a daily basis. I think it is so wonderful I want to bless a couple of my friends with a bit of their own :) Our hands get super dry up here in the winter and I know they will love it as much as I do."
~ Pam, WA, April 2013

"Tried my lotion this morning -- very nice!" ~ Brenda, AZ, April 2013 "When I got home your lotion had arrived. What a nice gift! Thank you for the lotion and quick service."
~ Lois, CA, April 2013

"Opened up my bottle numbered 94 last night and it was DELICIOUS! Thanks for the quick - FREE - overnight shipping!"
~ SheriJo, CA, April 2013

"I had this oil at my friend's house. It is the most unique, flavorful olive oil I have ever tasted. I love it on my popcorn! I want to share it with my family. Beyond delicious!!!"
~ Denise, CA, April 2013

"It is an honor to buy your oil today and meet the grower in person."
~ Cattle rancher/farmer at Sagebrush Days in San Miguel, CA, April 2013

"Great oil, I will use this oil on all of the veggies from my garden." ~ Customer at Sagebrush Days in San Miguel, CA, April 2013 "Your oil is one of the best I've had in many years. Please keep me on your mailing list. Thanks again."
~ Joe, FL, March 2013

"We tried your olive oil in several ways now, and found it to be darn tasty (although I'm not quite sure "tasty" is a valid olive oil word). We don't know all the sophisticated terminology (like the wine words) that is supposed to be used when referring to olive oil, but tasty seems like a good one to me. One of the little treats we make as an appetizer is simple. Fresh basil leaves, a couple of slices of tomato, a little glob of burrata cheese, then drizzle olive oil and balsamic vinegar and top off with a pinch or two of sea salt. Try it next time you have some fresh basil and burrata around."
~ Dick, Solana Beach, CA, March 2012

"Congratulations on winning the Gold Medal! All your hard work is paying off. I so enjoyed last year's bottle of oil. May this be the beginning of many more Golds!"
~ Diana, Thousand Oaks, CA, March 2012

"I received my delivery of San Miguel Olive Oil yesterday, and was at first most impressed with the presentation. The little gold bag is a splendid touch, most appropriate, and brought a smile to my face. I opened it right away as I was very excited to experience the oil's aroma and the taste you were able to achieve at the San Miguel Olive Farm. I was not disappointed! It is a brilliant product. I loved my freshly baked bread dipped in it and I loved my fresh vegetables sautéed in it. Bravo!"
~ Pam, Arlington, WA, February 2012

"I think it [San Miguel Olive Farm oil] is excellent!"
~ Joe, Livermore, CA, April 2012

"This is the best olive oil we have ever tasted! Delightfully grassy and peppery on the nose and palate. Smooth texture. Complex and harmonious! Superb on a green salad and with fresh artisan bread."
~ Sharine and Ron, Atascadero, CA, April 2012

"As a person trying to find healthy alternatives for my family, I was extremely pleased with the quality of San Miguel Olive Farm olive oil. Its' buttery and light taste enhances the flavor of any meal making, fresh and delightful."
~ Marcela, Paso Robles, CA, April 2012

"I am ethnically Italian and have had olive oil/vinegar salad with supper almost every day of my 71 years. I just had my first salad with your olive oil and I must say it is the BEST I have ever tasted! Thank you!!!"
~ L.D., Sunnyvale, CA, May 2012

"We received your olive oil and we believe it's about the best we've ever had. And we've been around. But besides your wonderful oil, we were pleased with the little gifts that you sent. The colorful velvet sacks that the bottles were in are very nice--a nice touch. You made a nice impression on us and we'll
spread the word."
~ D.L., Del Mar, CA, May 2012

"We have opened your olive oil and used it with some great bread and boiled shrimp. We didn't need a thing else . . . Magnificent!"
~ Sylvia, Creswell, OR, May 2012

"My friend says I compare almost everything to music. Your olive oil is like music. A high note, a middle note, and a bass note for support. It is like a concerto -- superbly well-balanced.
~ Zan, Paso Robles, CA, June 2012

"Thank you for sending the oil! I had to taste it right away--just took a spoonful & WoW!! No wonder you are winning awards. It is really fantastic."
~ Brenda, Sedona, AZ, July 2012

"The olive oil was a major hit, very impressive."
~ Meghan, Los Olivos, CA, October 2012