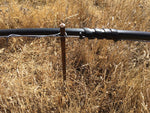 It has been a bit toasty here on the farm during the day, so at times we find ourselves working in the early evening hours. Not a bad idea! 
Last nite we inspected the area we call "The Hill". We have been changing our drip line from lying on the ground for watering, to having it raised above.  We are hopeful this will eliminate the problem of gophers surprising us with chewed line.
The process is more complicated than our original irrigation system. A firm wire must be attached to the line to give it support. As we have our trees planted a good 18' from each other, the line needs to be supported by a short rebar in between trees. The line is then attached as seen in the photo.
The first watering needed to be monitored to ensure there were no leaks at the ends. Time consuming, but rewarding when all is checked.